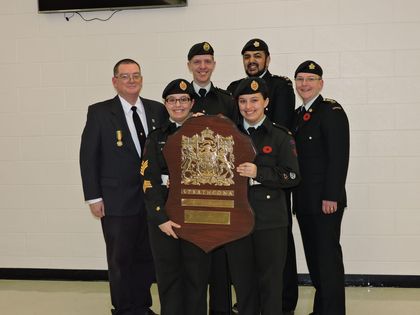 ABOUT 2884 ROYAL CANADIAN ENGINEERS ARMY CADET CORPS


2884 Royal Canadian Engineers Army Cadet Corps is located in the town of Glencoe, ON, with cadets located throughout the area including Dutton, Wallacetown, West Lorne, Appin, Rodney and Glencoe. From September to June the Cadets meet every Wednesday at the Glencoe District High School from 6:30-9:00 pm for regular Parade nights. The Unit participates in three training weekends a year, including a winter weekend, where cadets will learn survival skills, outdoor activities and how to sleep outside. 2884 participates in many local parades in the area, including Santa Claus Parades, Remembrance Day Parades and Fall Fairs.

This Cadet Corps is very busy as there is a Marksmanship team, in which cadets are taught the fundamentals about shooting and marksmanship. This team generally meets once a week from December to February until the area competition.

At the begining of the year there is an Orienteering Competition for the cadets to participate in. The Unit normally sends one male and one female team to the competition.

If music is your thing, this Cadet Corps also has a Pipes and Drums band. Instruction is provided for tghe bagpipe as well as the drums. These practices occur every Tuesday night at the Nerwbury Legion.

Due to the activities this Unit has, 2884 has been recognized as the Top Small Unit in Southwestern Ontario for four years as well as the Top Small Unit in Ontario last year.